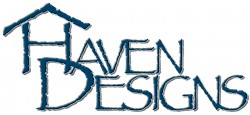 Haven Designs has been selected by the Willow Creek HOA Design Committee to review and provide a recommendation to the Design Committee on all submitted design applications (including: construction of any residential building, structure, improvement or premises on or  excavation of any portion of a parcel or any material change or alteration to any buildings, structures, improvements or premises constructed on a parcel including landscaping).
Haven Designs is the only approved Architectural Design Approval Firm for Willow Creek.  Any other Firms/People do not have authorization.
Approval Process
The approval process for these reviews can be found in Schedule B of the Restrictive Covenant - Design Regulations.
A preliminary review should be initially submitted, Preliminary Review Application Form.
Once all conditions identified in the preliminary review have been addressed a final review should be submitted for final approval, Final Review Application Form.
Fees for architectural review are $1,000 upon initial submission and an additional fee of $500 may be levied upon additional reviews.
New Haven Contact Information:
Petula Foley A.T.
Designer
HAVEN DESIGNS
Plan Design, Drafting & Architectural Control
4440 Cowichan Lake Road, Duncan BC, V9L 6J7
403-589-3236
GRADE SLIPS
MPE Engineering stewards all the grades for Willow Creek.
Upon the the completion and approval of an architectural review - the approved design package submitted will be forwarded to  MPE Engineering to produce the grade slip.
Last cost of grade slip is $500.
MPE ENGINEERING
Greg Sentis
403-314-6127
gsentis@mpe.ca