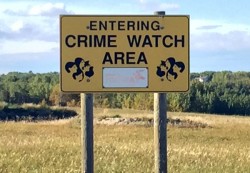 It has been brought to our attention that, on more than one occasion, a contractor that is not working directly in our community has made a decision that vacant lots within Willow Creek are an ideal location to dispose of construction waste.  The contractor was recorded on video, reported to bylaw services and was instructed to cease this unprofessional activity.
As our community continues to grow, we would like to ask all residents to keep your eyes and ears open for any suspicious activities.

If you witness any illegal dumping or other undesirable acts please contact the MD of Rocky View Bylaw Enforcement at 403-230-1401.

Call 911 for immediate emergency assistance such as fire, ambulance and police services.